How happy is Sledge going to be that polls are working?

9 members have voted
So late last night I finished up the review that almost killed me. Stupid KWA M1911A1 review is up here.
I have been given another great chance, a larger manufacturer has agreed to loan me guns for review and publication. I am excited to get my hands on more weapons, without having to purchase them up front. It will be like building a project gun for a client, all the fun of a new gun, and I don't lose any money in the deal.
I also managed to work out a few hammer issues with a client's gun. I ordered a set of PDI hammers for installation in a pair of TM Delta Elites. I bought a limited edition "Race" hammer for myself, while my client/buddy purchased the new PDI NeXT hammer. Interestingly enough I swapped them both in, and it turns out that the Race hammer looked too small on my gun (completely overshadowed by the beavertail) while the NeXT did not function on his gun (due to the A1 grip safety). So I swapped em around. Cleared it with the client, and now we both have the correct size hammer for our guns.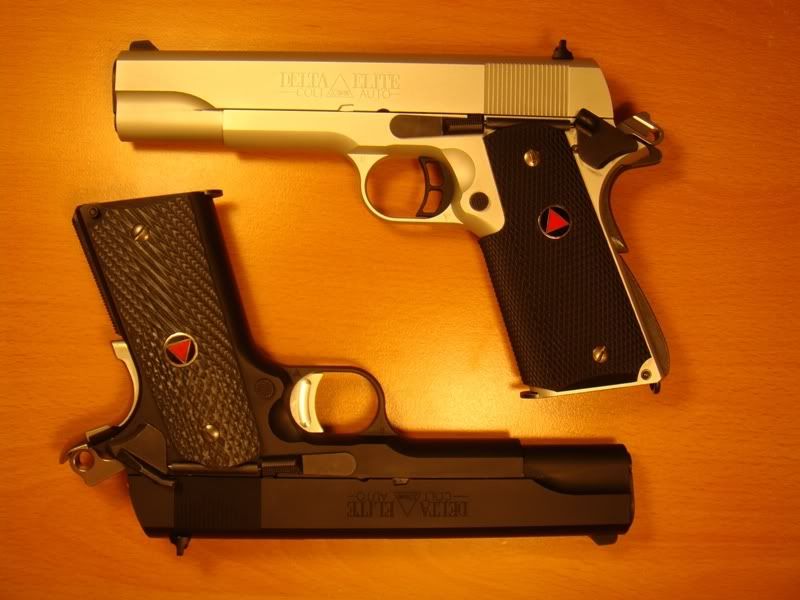 I figured out a fix for fitting Hi Capa hammers into 1911s. I dropped a line to my buddy davedawg, and used his idea to get me started, but the real answer was available to me all along. I once bought a KM hammer that was manufactured poorly, and never shot right. I eventually got it to reliably fire, but it never shot perfectly. Combining that knowledge with what davedawg told me, have made both of these Delta's fire like cannons. Amazing.
More to come. I think later this evening I am going to write up a quick history of every gun that has passed through my hands this year. I have no idea how many it is, so I will be learning something new.