WA M4 CQBR - Finally arrived.
---
The really good news for me is that my WA M4 finally showed up and I must say it is amazing. I love the sheit out of it. I know there has been a lot of talk about the weakness's with the internals, and I know it isn't a skirmish ready gun out of the box, but I never expected it to be so I am happy. The recoil action and sound are more than I imagined and put a smile on my face time and time again. Mine probably has less than 1K rounds through it, but other than the ejection port latch falling off (baffling me, but ah well I will buy a RS one) mine has been rock solid. I do baby it, hand lower the bolt once it locks (often I just disable it altogether) and my hop up looks just fine.
Just a few upgrades so far, but plenty in the mail and planned. For now it has a RS MIAD Grip, KM Troy style flash hider, and a modified G&P Knights M4QD Suppressor. Looks pretty good, but there is plenty more to go.
1 - 378.7
2 - 373.0
3 - 376.6
4 - 377.9
5 - 375.6
6 - 376.8
7 - 376.2
8 - 373.4
9 - 375.8
10 - 373.4
Avg: 375.74
RPM: 833 RPM or 14 RPS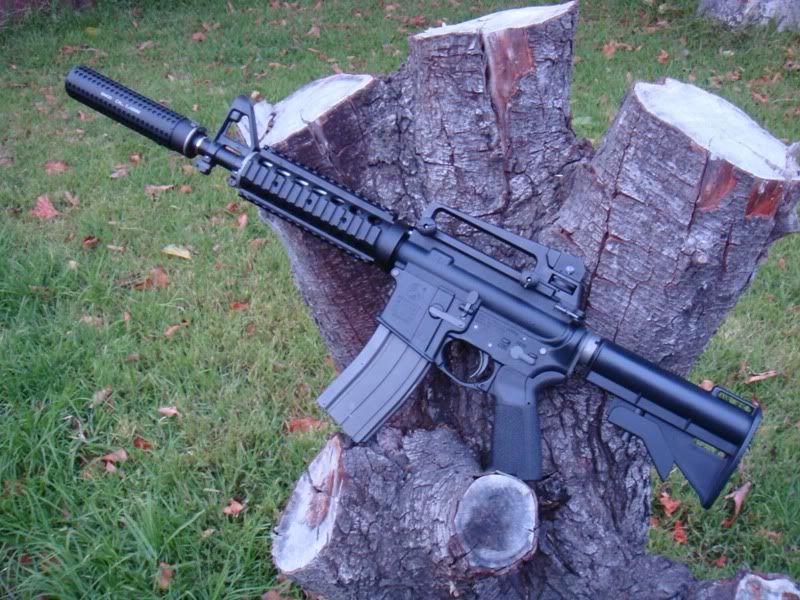 Arriving tomorrow should be:
KM SR16 Flash Hider (so the idiot suppressor will stop rotating)
Airsoft Surgeon Buffer and 140% Spring
PDI 6.01mm Tight Bore (368mm)
Still waiting to hear back from RA Tech, but I should have a CNC hop up unit soon so I won't be worried about the hop breaking, and if I can get paid for my AK74M, some nice RS furniture will be going on. In all it is going to break $1K far faster than I would like, but hey I am buying what I want so be it.