Well, the new builds are basically all done, they've been assembled, played with, checked, tested, and of course there's always more to tweak and tune (especially with WA's) but they do at least look very nice. Anyone wanting lots more pics of the guns or info, check out the magpul picture threads.
On a 'showing people your stuff' note, I'd like to mention that I coughed up for a 'pro' account on photobucket the other day, $25 for a year and it's a pretty sweet deal for anyone out there looking to upload loads of pics and store stuff online. About £15 and you've got unlimited storage space and bandwidth, all the annoying ads removed and you can see all the stats about how many views each of your pictures has had and from which site those views have come. Admittedly, the free account does give you a lot and for most people I'd recommend that, but if you just want to upload to your hearts content then I think it's good value for money.
On an airsoft purchases note, just the day I fly back up to Scotland and leave my guns at home, this pretty lot turn up from DragonRed: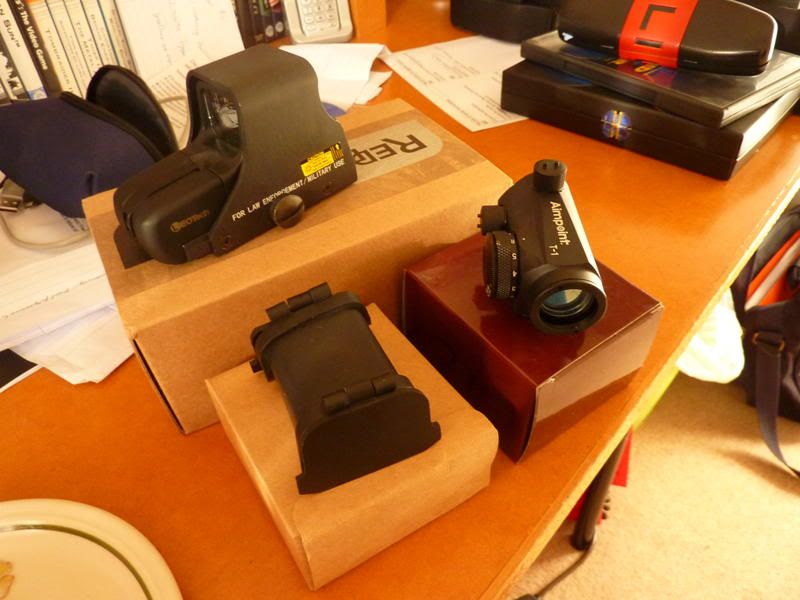 I know, what a pain eh? They were intended to go on the WA gun project, but guess that'll have to wait for a few more weeks (only 3 to go until I'm posted back to the right side of the Scottish border, whoop, etc). Do need the proper riser mount now for the T-1, whether there's a decent one out there that isn't Dytac and their ######-take prices we shall see.