How happy is Sledge going to be that polls are working?

9 members have voted
After finally getting around to taking a photo of it all (and fighting the urge to rip it all out the packets and put it to use for a few days) here's another "*suitcase* I've bought recently" update: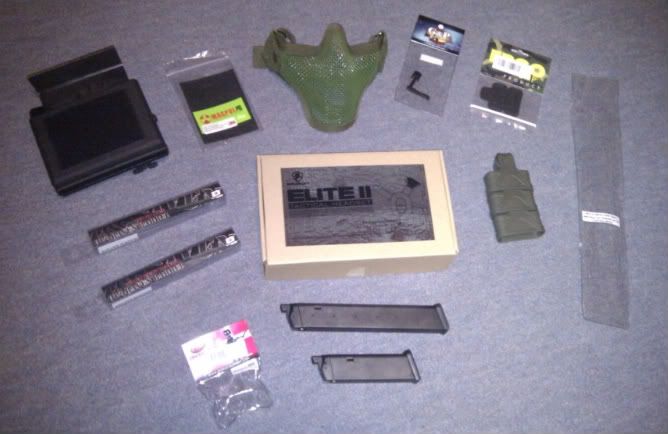 As opposed to simply providing a list of the above items I'll be giving my reasoning for each purchase, as hopefully this will provide some insight in to my playing/kit/guns related habits and hopefully even trigger some productive thoughts and learning processes, for anyone that cares to have a browse.
ACM Polyer 'Magazine-of-Magazines' - With the recent rise of the pistol carbine, and my decision to buy 2 of them (one being still in the post) I decided the time had come to set one of my MOLLE rigs aside specifically for carrying pistol magazines, and I'm yet to find a more efficient way of carrying them than one of these. Takes up very little MOLLE space for how much it carries, quick to draw from, suits all variety of shapes of mags and is made of some pretty good quality materials from what I've seen so far; significantly better plastic than most chinese products.
 

Magpul PTS PMAG Grip Tape - All my old school PMAGs are already covered in this stuff, but you get 12 small pieces per packet, at very little cost. So if you want to add grip to any of your guns, pistols in particular, without taking a soldering iron to the plastic (*shudder*) grab yourself some of these.
 

Black Bear Lower mesh mask - After buying 2 ACM mesh lowers (from EBB and WGC respectively, WGC's being far better) I realised that having just the one strap was likely to cause me to spend more of my skirmish day re-arranging my face-pro than pew pew pew'ing, so this seemed a logical purchase. Likely to become a mainstay of my gear for years to come I think.
 

G&P WA system steel mag catch - After experiencing some issues with the bolt not recoiling and all the gas venting on one of my WOC rifle lowers, I tracked the trouble down to the mag catch which was making the magazines themselves sit too high, and catch on the underneath of the bolt carrier. Rather than take the file to the catch already in there straight away, I'm learning from past mistakes and doing the work on this spare, just in case. Ending up with an extremely expensive M4 lower receiver that's entirely useless, for the sake of a botched mag catch, isn't worth the small cost of one of these to 'experiment' with.
 

ERGO Grip tape - A bit like PMAG 3M grip tape but in very large rectangles. Again ideal for slapping on to a pistol/grip point on a rifle, rather than permanently burning lots of little dimples in to it; in my eyes at least.
 

Empty packet, representing G&P WA system hop unit and 325mm inner barrel which I've already installed - Didn't come with the hop rubber itself which was an unexpected and unwelcome surprise. But, I managed to scrounge one from my bits box, and after losing the small internal spring and scrounging one of those from the insides of a lighter, I finally had a working hop and inner barrel combo for my 12" WOC upper assembly, which is great as I foresee it being the one that gets used the most. In fact 12" barrels are coming out on top as my ideal compromise for a skirmish gun that's good in the woods but can be very comfortably taken in to buildings when you need to, which is exactly what I need at my regular site.
 

PDI Raven 6.01 inner barrels for TM Night Warrior and TM MEU - With the Night Warrior replacing my old trusty 1911A1 as my primary skirmish side arm I want to maximise its' potential, how this barrel will fare in terms of the dreaded BB jams is yet to be seen, but I use good quality ammo and for the price I think the potential accuracy and power increase should be worth it. Fitted very nicely in to the pistol/hop unit and testing results will be up soon. As for the MEU, I want to keep the old A1 to metal kit out so the force recon pistol will be going in to my 1911 carbine kit, which of course if you're using as a primary you really need to be performing to the maximum.
 

'Proper' Cavalvy headset - After years of using awful, uncomfortable uber-cheap replicas I've finally got around to paying for a 'boring' bit of kit that, while bland, makes skirmish life better (a subject I'll be going in to later). The replicas never had any real padding, the PTTs were intermittent, the received audio was garbled, the transmission was no better, and while not cheap for a product that's not exactly fun or exciting I think I'm going to be glad I put down the coin for this.
 

3 x OD Magpuls - I can't really remember a time before having these on all my 556 STANAG magazines, and since I've got an awful lot of those I need an awful lot of these. They really are a no-brainer upgrade to your kit.
 

KWA FPG Magazine - i.e. KSC system Glock 50 round magazine. When you're running a pistol carbine as a primary, extended mags really are a must, and compared to actual KSC extended mags these things are slightly cheaper, far more common and come with the FPG plates pre-installed, saving you having to buy 3 at a time; absolute winner all round.
 

KSC Standard length Glock mag - Already had 3, but that's not a nice round number; and when you're rocking your FPG or HERA against AEG users you're going to need plenty of mags on your vest. Not exactly cheap though so I've been having to spread the purchase of these out a little bit.
 

Element EoTech lens protector - Hardly milsim looking, but after suffering a shot to one of my 551s very recently, then for the princely sum of about $4 these do make sense. Slides inbetween the optic assembly and the metal shroud quickly and easily, doesn't reflect when you look through, good quality plastic, definitely worth it to protect your assests. Better to take a couple of quid and 5 minutes of time to replace this than all the costs of buying a whole new optic.

Of course the 2 orders I really wanted from UnCo and SKD Tac haven't even had updates to their tracking status for days now and my chances of seeing them soon are becoming less and less, but I live in hope.