G&P's Western Arms Official Custom (WOC) Notes and Progress - 1/10/2011
---
As many involved in the Gas Blow Back world know, I own a G&P M16A4 WOC. Most notably, I own a WOC that is converted to run on High Pressure Air (HPA). I have received literally hundreds of PM's, questions, etc about the conversion and while I have to say I'm flattered, I'd just like to share that there is a lot of "school of hard knocks" progress that it took to get to this point. My loss, is of course your gain. So lets look at the base gun as it stands to this day: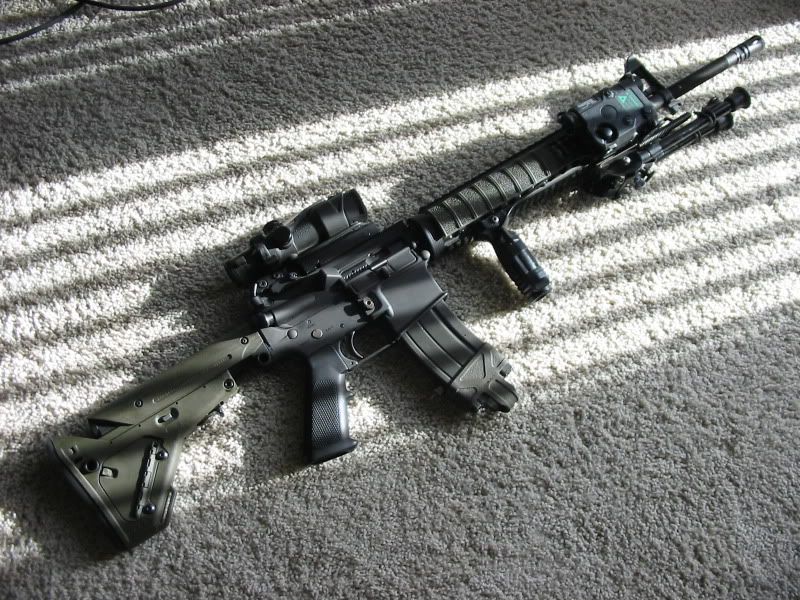 [base]
G&P M16A4 WOC
[Externals]
Dboys M5 RIS
Dboys RIS Bipod adapter
Magpul UBR Stock for WA M4 in OD
2x Magpul Rail Panels in OD
ErgoGrip Vertical grip in Black
PRO&T AN/PEQ 15 w/ Green Laser in Black
Rockford Mount Harris Style Bipod
G&P Bungee Single Point Sling
ACM TA31 ECOS w/ Kill Flash
JG Flip Up Rear Sight (Stolen from a sacrificed JG S-System)
[internals]
Prime Steel Bolt Carrier with RA-Tech Aluminum Nozzle (and tip) with NPAS (330 w/ .28's)
G&P Negative Pressure Bolt Carrier Group with NPAS (Soon to have NPAS installed actually) (510 w/ .28's )
AABB Hardy Recoil Spring
G&P Steel Buffer Stop
G&P FN M16A4 Body with Burst engravings (Newest Generation, had the older generation which was not as nice)
RA-Tech Hop Up Roober
JDT 6.03 Tightbore, 509mm length
DPMS Charging Handle (modified)
Noveske Charging Handle w/ Badger Ordnance Big Latch (Modified and in Use)
RA-Tech Burst Kit
All Other Parts are stock G&P WOC Internals
[Magazines]
5x WA Magazines with G&P Seal Kit w/ Magpuls and HPA Converted
2x Bomber Magazines with G&P Seal Kit w/ Magpuls and HPA Converted
The direction I plan on taking my "blog" is to give tips and tricks of the WA based Gas Blow Back Rifles as based on MY experience with the platform. So stay tuned!