Being home for over a week, and having not only my own purchases but Christmas presents as well, I'm hoping to have lots of stuff to write about and take pictures/videos of. Although sadly the speed it gets dark in the evenings is proving a bit limiting but I shall do what I can. After recovering nicely from my chocolate/cider/roast meat festival yesterday I think I'll start off with a group shot of the Yuletide gifts: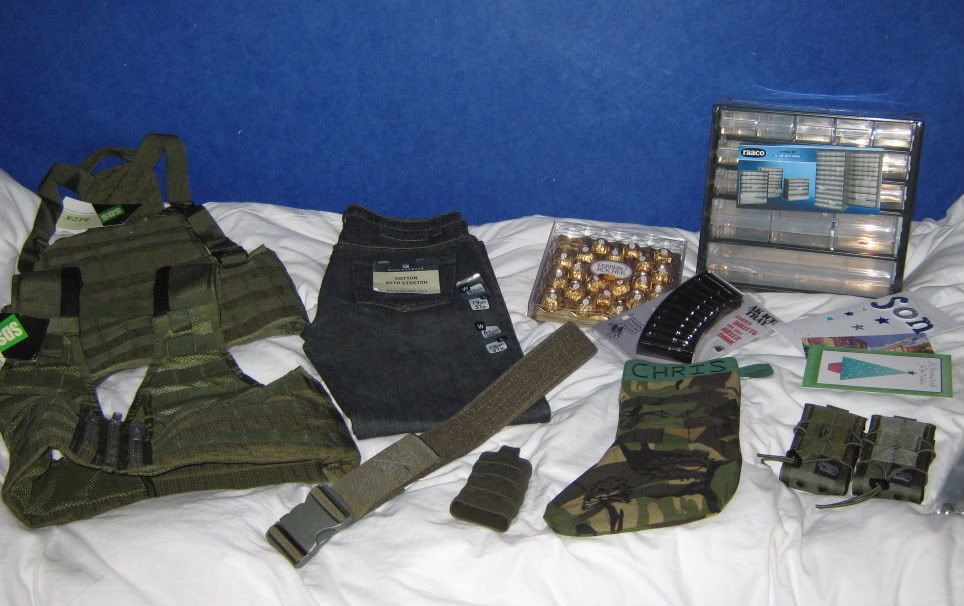 List in order of interest to the average airsofter:
-SDS Super FLC (lower vest)
-SDS I-RACK (chest rig, first one I've bought out of ~10 different load carrying rigs I've owned so far)
-ATS Warbelt insert
-2 x HSGI Taco pouches
-Custom Christmas stocking with MOLLE webbing and MSM patch logos in gen. DPM fabric from the girlfriend
-4 x OD Magpuls
-AK Ice Tray (results to be posted up later)
-Clas Ohlson Tools/Parts drawer unit, to be filled with hop-up parts, WA lower internals, screws, optic mounts, etc
-Some highly fasionable Gucci M&S jeans
-Choccies
-Cards
I've currently got orders from both UnCo (with some very nice goodies in) and SKD Tactical (with some more practical gear bits) stuck in the postal system which is getting right on my tits as if they don't turn up before I go back to Honington (which is looking more and more likely by the day) I won't be getting my hands on them for a fair few weeks. That said, if I were still up at Lossiemouth I'd probably not have made it home for Christmas leave at all as a fair few of my mates still there have faced some significant difficulty getting back to see their families due to the road/air conditions, so I could still be stuck there, 'be thankful for what you've got'. Could be worse yet again though, plenty of blokes eating turkey and opening presents sent from their family in Afghanistan right now, be really thankful.